28th Annual East Maui Taro Festival
We are postponing our 28th East Maui Taro Festival
(originally scheduled for April 25th) to a later date TBA.
We want to keep every one safe, especially our kupuna, since social distancing is the order of the day.
Malama Pono
EMTF Board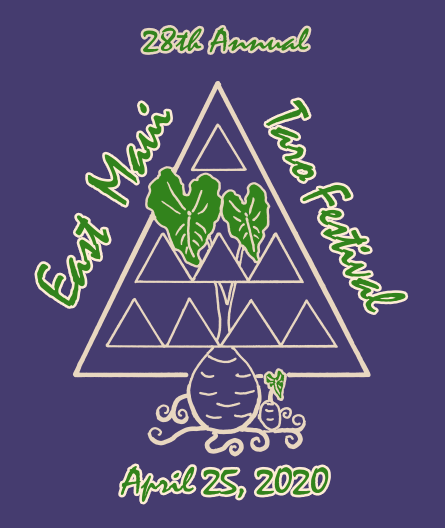 ---
Download Forms (PDF)
Agricultural Tent Booth Application
Information Tent Booth Application
Arts & Crafts Booth Application
---
---
Mahalo to everyone for a successful
27th Annual East Maui Taro Festival!
Congratulations to the winners of the Queen's Challenge Taro Competition:
Lo'i (wetland) grown: John Lind, Jr.
Mala (dryland) grown: Mike Opgenorth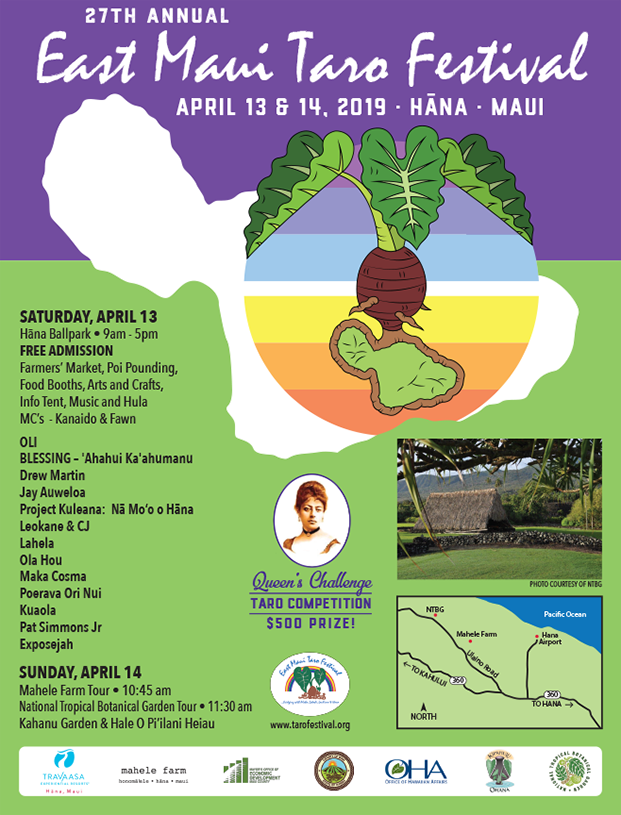 This year's Taro Festival design is by Sophie Adams. Sophie is originally from Christchurch, New Zealand and is currently living in Wellington where she attends Massey University, studying towards a Bachelor of Design, majoring in Visual Communication Design. Aside from her university projects, Sophie enjoys creating various illustrations and designs, which she shares on her Instagram, @drawn_by_sophie.
Artist Design Concept:
I have used the taro roots to outline a simplified birds-eye map of Maui Island to signify the deep rooting of the taro in Hawaii's history and ancestry. As legend has it Hawaiians descended from taro, and to allude to the fact that the first taro grew out of the ground where Haloa, [son of Wakea (sky father) and his daughter Ho'okuokalani] was buried after he was stillborn. It also symbolizes family and connected-ness, to highlight how the festival is a way that taro brings the people of Maui together today. This design also makes it look as if the huge taro is growing up out of the island, emphasizing the taro's importance and significance in Hawaiian culture. The large taro leaves at the top curve to create a border to the circular background.
The colors I have used in the background symbolize the earth and sky. I have used various striped shades to draw from the rainbow motif that has been used in past designs, in a less literal way, so that the varied colors highlight diversity, peace and happiness. The overall circular shape of the design with the bulbous root of the taro in the middle creates a feeling of unity and family while drawing attention to the importance of the taro, to signify everything that the festival stands for.
---
---
The Queen's Challenge
The Queen's Challenge Taro Competition at 27th Annual East Maui Taro Festival (PDF)
Prize: $500 for a kalo grown in lo'i; $500 for a kalo grown dryland.
---
---
Email inquiries to: info@tarofestival.org


Bridging with Aloha, Lokahi, Laulima and Hana
---
History of the East Maui Taro Festival
By Maria E. "Ka`imipono" Orr
Background on Kalo (Taro)
from "Canoe Plants of Ancient Hawai`i"
Taro Resources on the Web
Links to Other Kalo and Hawaiian Culture Sites
---

26rd Annual East Maui Taro Festival
Saturday, April 21, 2018 Hana, Maui

25rd Annual East Maui Taro Festival
Saturday, April 29, 2017 Hana, Maui

24rd Annual East Maui Taro Festival
Saturday, April 30, 2016 Hana, Maui

23rd Annual East Maui Taro Festival
Saturday, April 25, 2015 Hana, Maui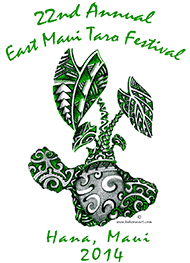 22nd Annual East Maui Taro Festival
Saturday, May 3, 2014 Hana, Maui

21st Annual East Maui Taro Festival
April 20 - 21, 2013 Hana, Maui

20th Annual East Maui Taro Festival
April 21 - 22, 2012 Hana, Maui

19th Annual East Maui Taro Festival
April 30 - May 1, 2011 Hana, Maui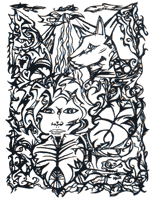 18th Annual East Maui Taro Festival
April 23-25, 2010 Hana, Maui

The 17th Annual East-Maui Taro Festival
April 25-26, 2009 Hana, Maui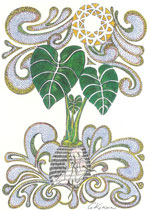 The 16th Annual East-Maui Taro Festival
April 26-27, 2008 Hana, Maui

The 15th Annual East-Maui Taro Festival
April 28-29, 2007 Hana, Maui

The 14th Annual East-Maui Taro Festival
March 31 and April 1 & 2, 2006 Hana, Maui

The 13th Annual East-Maui Taro Festival
April 1, 2 & 3, 2005 Hana, Maui

The 12th Annual East-Maui Taro Festival
July 24th and 25th, 2004 Hana, Maui

11th Annual East-Maui Taro Festival
March 28, 29 and 30, 2003 Hana, Maui
10th Annual East-Maui Taro Festival
April 12, 13 and 14, 2002
9th Annual East-Maui Taro Festival
March 30, 31 and April 1, 2001

8th Annual East-Maui Taro Festival
March 31 and April 1 - 2, 2000
7th Annual East Maui Taro Festival
March 26, 27, & 28, 1999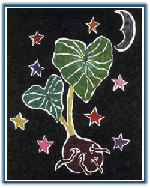 6th Annual Festival
March 27, 28 & 29, 1998


5th Annual Festival
April 4-6, 1997

4th Annual Festival
1996
---

---

East Maui Taro Festival, Inc.
P.O. Box 295
Hana, Hawaii 96713

For scheduling and information call 808-264-1553.

E-mail: info@tarofestival.org

www.TaroFestival.org