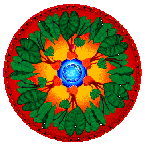 THE 4TH ANNUAL
EAST MAUI TARO FESTIVAL
The 1996 Festival opened with a Sacred `Awa Ceremony. Thishistoric event marked the first time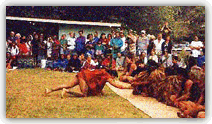 in over 100 years since the genealogicallineages of East Maui gathered to acknowledge their ancestors and veneratetheir honor.
Commitments were made this day by each family to continuethe perpetuation and restoration of the Lineal Protocols for Hana (Keanaeto Kaupo).
Another significant moment of the ceremony came when thekama`aina resident families of Hana were asked to join the ceremony. Thisdisplayed the deep devotion to the true essence of Aloha which is embodiedin the Hana community.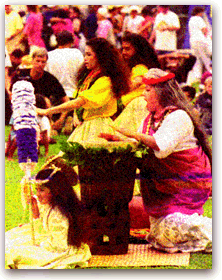 East Maui Taro Festival hosted over 4,000 locals andvisitors in 1996. The day was filled with rich Native Hawaiian Culture,Hana style. Each year the Festival grows and fills the hearts of Hana withthe deep inter-connectedness it has shared with the land for thousands ofyears - in a day of Celebration of KALO - Taro as most know it and its heirs.
To the left you see the front-page headline photo imageof the Maui News with a title stating: "TAKING A STAND FOR HAWAI`I"and Halau Na Maoali`i O Ka`uiki with Kumu Hula Namahana Kalama-Panui, Hana.
Below is the local Haleakala Times front page the week of the Festival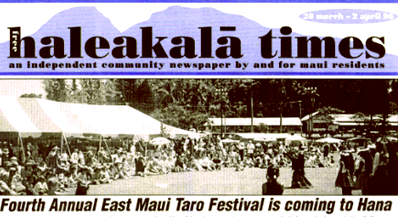 | | |
| --- | --- |
| | `Ohana Sunriseby Jozef Smit was the image chosen to represent the Taro Festival in 1996. |
More images and background on the 1996 Taro Festival can be found at the Hana Cultural Center and Museum Website.
---


Return to the
Taro Festival Homepage
E-mail: emtf@hookele.com
http://hookele.com/tarofest/1996/index.html