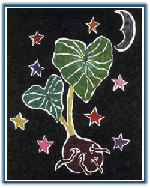 The 6th Annual East Maui Taro Festival
March 27, 28 & 29, 1998


Hana festival celebrates life-giving plant
The Maui News, March 29, 1998
The 6th Annual East-Maui Taro Festival is dedicated to the late Fred Kanoho and Jozef Smit.

Fred was pictured on the front page of the April 7, 1997, Maui News talking with keiki about stone carving at last year's festival. Fred continues to be a positive impact on the festival and the many people he communicated with. Fred's Unupa`a Creations were "modern interpretations of ancient Hawaiian stone work."

Jozef was the artist of the "`Ohana Sunrise" image which was used for the 4th annual EMTF poster and commemorative shirt. He contributed to the organization of the Student Art Exhibit, served as Administrative Assistant for the 4th Annual Festival and was Executive Director at the Hana Cultural Center.
---
FRIDAY, MARCH 27
free admission
SUNRISE AT HANA BAY.
ARRIVAL OF THE POLYNESIAN VOYAGING CANOE MO`OLELE (weather permitting), HAWAIIAN PROTOCOL AND `AWA CEREMONY.
It is uncertain if the Makali`i will be able to participate, as previously announced. The Makali`i recently suffered a broken mast during training exercises for its upcoming expedition to the South Seas and is undergoing repairs. The `awa ceremony will be conducted by Charles Kaupu and Maui Nui O Kauhi A Kama. Participation by Na Koa.
12 NOON AT PAPAAUHAU
CEREMONY FOR NIUOLA (ceremonial coconut planting).
This planting is in the spirit of the planting on Kaho`olawe. The ceremony and chant will bring together `ohana from the ahupua`a of the Hana District. The ceremony will be led by Dan Akaka, Jr. with participation by Na Koa. Location of ceremony is approximately one half mile from Hana Town toward Kipahulu. Please look for assistance in parking and be careful walking along roadside.
5:30 PM AT HANA BAY.
TARO AND `AWA SYMPOSIUM WITH HUI KALO MOKU O KEAWE.
PRESENTATION BY MO'OLELE AND MAKALI`I CREWS.
Jerry Konanui, Big Island taro grower and President of the Hawai`i Kava Growers Association will discuss botanical, cultural, economic and ethical issues of taro and `awa cultivation. The current taro blight and international demand for `awa will be among topics discussed. A video and information regarding activities of the canoes will be presented by members of the Mo`olele and Makali`i crews.
Dinner will be available starting at 5 PM from the Hana School Future Farmers Club. The menu includes poi, rice, paholi salad and sweet potato lau lau poke. $5 charge.
---
SATURDAY, MARCH 28
free admission
9 AM TO 5 PM
ALL DAY FESTIVAL AT THE HANA BALL PARK.

Taro Farmers, Farmers Market, Poi Making Demonstrations, Hawaiian Food, Information Tent, Hawaiian Arts and Crafts, Hana Students Hawaiian Art Exhibit, Hawaiian Games, Hula, Mele, Music.....and much more!
A photograph exhibit by Masako Cordray will be available for viewing at the Hana Community Association Office (across the street at the Old School) all day Saturday and Sunday morning. The exhibit is made up of images from the 5th Annual EMTF. Hana District residents will be able to obtain copies by signing a request book. Apologies to those who had previously made requests. The book walked away from Helene Hall!
ONO GRINDS
Poi, Mochico Taro Dessert, Hawaiian Plate, Kalua Pig, Squid Lu`au, Raw Fish, Lomi Salmon, Haupia Cake, Pork Haha, Seafood Chowder, Ulu and Taro w/ Honey, Pohole Salad, Taro Salad, Taro Balls, Sweet Potato, `Opihi, Crab, Mango Seed, Pickle Mango, Mea`ai Pono Diet, Taro Bread, Fresh Hawaiian Fruits, Taro Corn Chowder, Akule Plate, Baked Ulu, Taro Tempura, Taro Poke, Veggie Taro Burger, Papaya Bread, Taro Taco Salad, Taro Chips and much, much more!!
---
STAGE SCHEDULE
Emcees Boy Kana`i and Francine Tolentino
9 AM Opening Pule
Charles Kaupu and Maui Nui O Kauhi A Kama.
9:30 Tamarri Teere Hia Halau
Dances from Tonga, Tahiti, Samoa and Hawai`i.
10:15 Cliff "Pali" Ahue and Na Maile Ku Honua.
11:30 Makaha Sons
A special performance for the people of the Hana District by "Moon" Kauakahi, Jerome Koko and John Koko. Among their Na Hoku Hanohano Awards are Best Vocal Group, Best Traditional Album, Best Song in the Hawaiian Language and Album of the Year. (A donation from Bill Dana Enterprises helped make this performance possible. Mahalo Bill and Evy!)
12:45 Hana School Hawaiian Studies Class will perform three chants:
Wakea Noho La Papa Hanaumoku.
This traditional chant talks about the birth of the Hawaiian islands through Papa and Wakea.
Mele Ho`oulu.
This chant was written by Kaipo Frias and edited by the late Parley Kanaka`ole. It is a chant calling out for inspiration in order to do or complete something.
Mele Alahaka-O Ka Po`e Alahaka Mai Ohe`o A I Kawaipapa.
This chant was written by the Hawaiian Language students at Hana High School. It is a Mele Helu and tells about the 17 bridges from Ohe`o to Kawaipapa. The chant was created during an intensive weekend workshop.
Kekuhi Kanahele and Kau`i Kanaka`ole have been working with Hana High School Teacher Shanye Novikoff and students as part of Haku Mele, which was founded by Parley Kanaka`ole.
1 PM Keola Beamer `Ohana
The Beamers trace their roots to the 15th century to illustrious kupuna (ancestors) such as Ahiakumai Ki`eki, an ali`iwahine (queen) of the big island of Hawai`i.
Keola says, "We come from a history of oral tradition in which music played a big part. Our genealogies, land boundaries, and navigational information were all in the chant form. We are only now beginning to realize the wealth of that knowledge, how so much of it has been lost and are finally making some serious footholds in regaining some of these meanings."
The New York Times called Keola the "Quintessential Master of the Slack Key Guitar Style."
For more information, Keola's web page is http://www.kbeamer.com.
A donation from John Blumer-Buell helped make this performance possible.
2 PM Na `Opio O Hana with Kumu Cecelia Kupau.
Hana keiki perform with voice and `ukulele. Mahalo to Cecelia and the Queen Liliu`okalani Foundation for their good works with Hana youth.
3 PM Kekuhi Kanahele
"Chanter/singer Kekuhi Kanahele comes from a long line of powerful Hawaiian women. Her legendary grandmother, Aunty Edith Kanaka`ole, was revered as a Hawaiian cultural expert, her mother Pualani Kanaka`ole Kanahele is kumu hula and U.H. Hilo language teacher, and her aunt is kumu hula Nalani Kanaka`ole.
Tapping her great legacy, last year Kanahele produced one of the most significant Hawaiian albums of the year. Hahani Mai is a powerful homage to her culture." Excerpts from Maui Beat (Maui News) by Jon Woodhouse.
Aloha `Oe and Closing Pule
Times are approximate and may be changed
6 PM TO 10 PM DRUG-FREE DANCE
HELENE HALL AT HANA BAY.
Sponsored by Alu Like YAPP Project (Youth Alcohol Tobacco and other Drugs Prevention Project) and the Maui Police Department.
---
SUNDAY, MARCH 29
free admission
7 AM TO 11 AM AT HANA BALL PARK.
TARO PANCAKE BREAKFAST (charge)
Sponsored by the Hana Business Council. Pre-sale tickets are available from the Hana Business Council members in Hana and at Saturday's Festival. Pre-sale price is $4 for keiki and $6 for adults. A dollar more on Sunday.
11 AM AT PAPAAUHAU.
LECTURE AND DEMONSTRATION BY SAM KAAI.
NIU (Coconut).
Sam's sharing of knowledge and collections at the 4th and 5th EMTF festivals was very much appreciated by those who attended ("Origins and Mythology of Hawaiian Fishponds" and fishing tools; weapons). Sam's participation over the years has been a great contribution to the East-Maui Taro Festival.
1 PM FIELD TRIP TO LIVING FARM AT KIPAHULU.
The Kipahulu `Ohana has a cooperative agreement with the Haleakala National Park which provides for cultural demonstrations. Plans for guided field interpretation and a kauhale compound are in the works. Restoration of lo`i and planting have begun at the living farm. Look for a sign just Hana side of Ohe`o stream. Four wheel drive road. Approximately a half mile hike from the Hana Highway. Please park only on the Mauka (mountain) side of the Highway.
MAHALO TO THE MANY FRIENDS OF THE EAST-MAUI TARO FESTIVAL.
The Festival needs financial support to continue to grow and prosper. Please consider a tax deductible donation to the endowment fund or a specific activity. The purchase of commemorative shirts helps to pay for festival expenses.
A SPECIAL THANKS TO CARLA CROW, KEOKI COOK, WILA MANRIQUE AND AJA VICTORINE for their artistic contributions to this year's festival.
Co-Sponsor: County of Maui
Courtesy Food Booth: Hana Akule Hui
Electricity: Ciro Mangione
Printing Production: Art to Print
Shirts: Royal Hawaiian Shirt Works
Sanitation: Rainbow Rentals
Security: Chester Pua
Sound: Robert Namahoe Productions
Tents: Kaleo's Tents, Earl Smith, Ernie
Transportation: Redo Express
EAST-MAUI TARO FESTIVAL, INC. BOARD OF DIRECTORS
John Kahalehoe Sr., President
Sam Kalalau III, Vice-President
Judy Kinser, Secretary-Treasurer
Evy Dana
Jackie Kahula
John Lind
Mike Minn
Maria Orr
COORDINATOR FOR THE 6TH ANNUAL EMTF FESTIVAL
John Blumer-Buell
ARTS AND CRAFTS CHAIR
Lucinda EstrellaFOOD BOOTH CO-CHAIRS
Jo-Ann Carreira and Ku`ulei HainaLAISON TO MAKALI`I AND MO`OLELE
Kanani Kahalehoe
FESTIVAL PARKING
A little patience and aloha will make it go smoothly. Please kokua. Mahalo!
Handicapped access parking is available by taking the one way road around Hana ball park. Community members will be assisting with parking.
The furthest away parking is only a few minutes walk from the park.

Taro Fest Home Page
East Maui Taro Festival, Inc.
P.O. Box 295
Hana, Hawaii 96713
808-248-8586
E-mail: emtf@hookele.com
http://hookele.com/tarofest/1998