The POI-fect Event: East Maui Taro Festival to be pounding
24th annual event to dish up food, fun, live music, hula and more
The Maui News
April 17, 2016
By CARLA TRACY ()
When the 24th annual East Maui Taro Festival plants its roots in Hana Ballpark from 9 a.m. to 5 p.m. April 30, it will be pounding from start to finish with nonstop food, culture and music.
A sea of island faces will be there, like Kaleikoa Kaeo, an instructor at the University of Hawaii Maui College, who leads a poi-pounding demonstration every year.
Taro farmer Tweetie Lind will be there, too, filling cups with fresh poi for taste testing. Kumu hula Kau'i Kanaka'ole will bring her halau, and the blessing will be done by 'Ahahui Ka'ahumanu.
The Kipahulu Ohana works the lo'i, or taro patch, to bring product to festival.
"The East Maui Taro Festival is an event the Hana community looks forward to every year; after 24 years, an entire generation has grown up with Tarofest," says event coordinator Judy Kinser, who this year also designed the poster logo and the T-shirts.
"There is so much to enjoy - the vendors, the hands-on activities, the music, the hula. The 20 food booths are always one of the main attractions. There are many delicious local dishes; all plates having some type of taro."
The East Maui Taro Festival gets supported in part by grants from the Office of Hawaiian Affairs and Maui County.
Fact Box
Upcoming Hana festivities at a glance:
SATURDAY, APRIL 30
* What: The 24th annual East Maui Taro Festival is free and open to the public with food booths, farmers market, plants and non-stop live music and hula from 9 a.m. to 5 p.m. at Hana Ballpark.
SUNDAY, MAY 1
* Taro Pancake Breakfast: Served from 7:30 to 10:30 a.m. at Hana Bay. Pre-sale tickets are $8 at the taro fest ag tent and $10 day of event. Other a la carte food options available.
* Garden tour: The National Tropical Botanical Garden on Ulaino Road will offer an 11 a.m. tour of Kahanu Gardens and historic Piilanihale Heiau (altar).
* Volunteer: Kumu Palani Sinenci will lead a restoration project for the Hana Cultural Center and Museum from 9 a.m. to 4 p.m. at the Kauhale Hawaiian Living Complex.
WEDNESDAY, MAY 11
* Classical Music Festival: At 7 p.m. in the Wananalua Congregational Church.
"This helps to keep this event free with no admission charge," Kinser adds. "BIG mahalo to them and to all of the participants and visitors who make this festival such a great success."
The festival will begin with an oli, or chant, by Kumu Kaeo and UH-MC students, followed by the blessing by Ka'ahumanu. At 9:45 a.m. Halau O Nakaulakuhikuhi led by kumu Kanaka'ole will dazzle the crowd, which in past years has topped 4,000 delighted attendees throughout the day.
At 10:45 a.m., CJ, Leokane & Boise will take the stage, followed at 11:30 a.m. by Halau Na Hanona Kulike 'O Pi'ilani and kumu hula Kapono'ai Molitau.
Other entertainers performing in 45-minute intervals beginning at 12:30 p.m. will be Ken Emerson; Halau Manaiakalani and Na Kumu Hula Kapono and Kanoe Kamaunu; Ola Hou; Pat Simmons Jr.; and Keoni Darisay & Expojah.
"The East Maui Taro Festival focuses on and celebrates kalo, or taro, not only because it was an ancient staple, but also because it is a symbol of kanaka maoli culture," says Maria "Kaimi" Orr, founder and president of this year's event. "EMTF strives to be a means in which Hana people can continue their cultural practices and share them with the world."
Yes, kalo, aka taro, is the elder brother of all Hawaiian plants -and you may taste it in numerous creations at the food booths. Bring your appetites, as people in Hana love to cook, especially when taro is a main ingredient. Doria Lind is once again food chairwoman, and she says that all of it is going to be ono, indeed. You may also bring coolers and shopping bags to take food and produce home for later enjoyment.
"We're having assorted burgers; loco moco; shrimp tempura; taro seafood chowder; beef, chicken or pork luau; pork haha (the stem part of the taro leaves); tarotele, like pastele; squid luau; laulau; Maui taro burgers; poi dogs like a pronto pup with taro batter; poi mochi; Maui Kazowie Kettlecorn with a new taro-spiced popcorn; fish tacos with taro; fish burgers on taro buns; all kinds of baked goods; and turkey-tail laulau; corned beef and taro leaves; and the South Pacific coconut-milk palusami."
Shave ice, smoothies, ice cream, chili pepper water, dried kukui nuts, peanuts and baked goods will be for sale as well as jams and jellies and fried menpachi (reef fish) and other temptations.
Doria's sister-in-law and farmer Tweetie Lind of Kipahulu Ohana again is chairwoman of the farmers market tent.
"The Kipahulu Ohana sells poi and we have laulau a la carte," she says. "At least five different taro growers come from Keanae and Hana and Kipahulu. Taro, mochi and kulolo is sold by Poi By the Pound and Aunty Pearl Pahukoa of Keanae will bring kulolo, too.
"Kahanu Garden will be there. Norman Mizuna brings his Haiku orchids. Hana Gardenland sells its plants and cactus. Hana Herbs sells pohole ferns. The taro task force with Uncle Jerry Konanui will do an educational thing."
On May 1, Kahanu Garden on Ulaino Road in Hana will offer tours; and there will be a pancake breakfast served by Barefoot Cafe, Bakery & Catering owner-chef Barry Villiarimo at Hana Bay. The meal will feature one taro pancake, link sausage, scrambled eggs and taro hash browns.
"We will sell tickets April 30 at the festival in the ag tent next to the T-shirt vendor," says Villiarimo, who was chef of the former Hotel Hana-Maui back in the day. "It's $8 pre-sale and $10 at the door. It includes coffee, juice, water and condiments. We will also be serving loco moco, taro-cinnamon rolls and other pastries."
Visit www.tarofestival.org.
Article Photos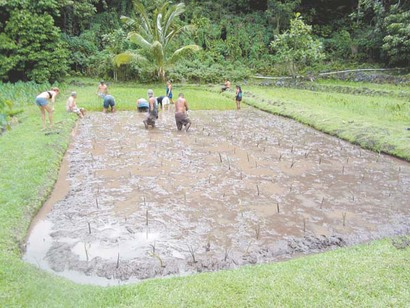 The Kipahulu Ohana works the lo'i,
or taro patch, to bring product to festival.
Photo courtesy Judy Kinser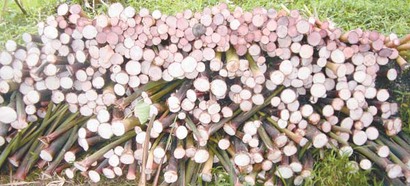 Huli after harvesting.
Photo courtesy Scott Crawford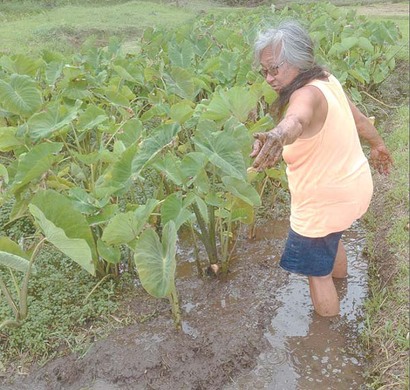 Farmer Tweetie Lind asks for a tool.
Photo courtesy Scott Crawford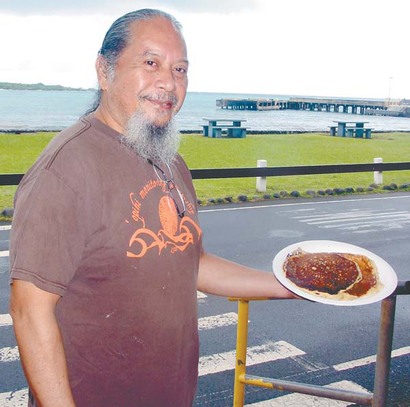 Chef Barry Villiarimo of Barefoot Cafe
at Hana Bay will host the Pancake Breakfast
the morning after the taro fest.
Photo courtesy Judy Kinser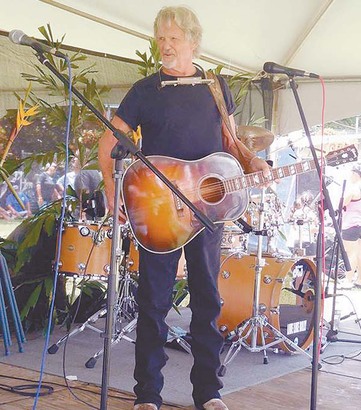 Legendary musician and movie star
Kris Kristofferson of Hana
was a surprise guest last year.
Photo courtesy Judy Kinser
Original article: http://www.mauinews.com/page/content.detail/id/609169/The-POI-fect-Event--East-Maui-Taro-Festival-to-be-pounding.html
---


Return to the
Taro Festival Homepage
E-mail: info@tarofestival.org